hosted by
Basel-Stadt Hash House Harriers
17th to 19th June 2022
Parpan (Graubunden) - Switzerland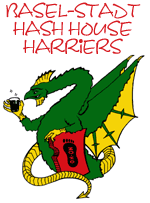 Location and Accommodation
Grischalodge, Swiss Lodge and Bike Hotel, will be your home for the weekend, featuring comfortable double, triple and 4 beds rooms. Located in Parpan, a charming mountain village in Kanton Graubünden, very near the well known Lenzerheide active holiday region. Be prepared, there might be some hills involved!
Important registration information
You are not considered registered until your payment is received. Until that time you will be on the waiting list. Please note that the registration cost is based upon when you pay, not when you register.
How much?
Payments is to be done in SWISS FRANCS. If you bring kids, please fill up the registration for each kid older than 4 years.
Early Bird:
CHF 225.00
Pay up by 15.04.2022.
Middle Rego:
CHF 250.00
Pay up by 17.05.2022.
DFL Rego:
CHF 250.00
Pay up by 15.06.2022.
Does not include haberdashery.
Registration closes June 15th. Maximum number of hashers: 81
Kids (4 to 12 years old):
50%
Dogs:
Please contact us
If the event must be canceled due to COVID, registration fees will be refunded, less any unrecoverable expenses required in preparation for the event.
What do I get?
Included in your registration:
3 trails in a fantastic location.
2 nights in the hostel (no rooms with more than 4 people in them). Bed linen will also be provided.
2 dinners (Friday and Saturday), from the hotel (3 course menu)
2 breakfasts (Saturday and Sunday), from the hotel
2 lunches (Saturday and Sunday)
Saturday night party
Beer, wine, cider, water and other non-alcoholic drinks at the venue and on trail
As with most hash weekends, the fee covers everything important from arrival on Friday to departure on Sunday. Your transportation to the venue is not included in the price.
Questions?