Zürich Hash House Harriers
Swiss Nash Hash 2007
Go Wild in Wildhaus
August 24/25/26 2007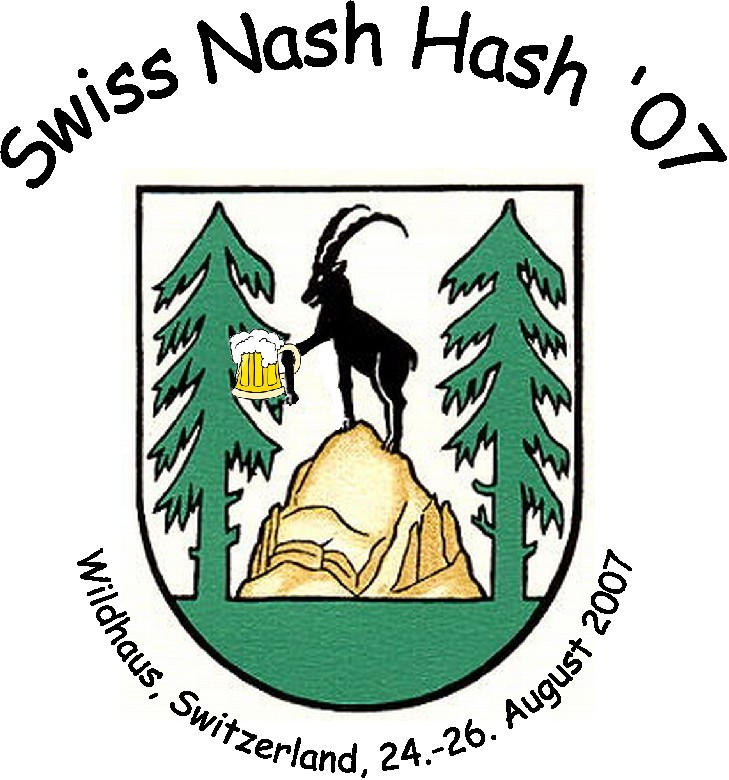 It was a great event, I want to come back next year... what do we know about SNH2008?
SNH2008 will be held by the Schaffhausen H3 - join us in wishing them congratulations on their successful bid! Check out the flyer!
Ok, back to SNH2007; where is it?
The spacious and well-situated venue is located in Saint Gallen, Switzerland! Wildhaus is only two hours from Zürich by train/bus. Their website burbles "The pension Rösliwies lies in wild house (canton St. Gallen), uppermost in the Toggenburgertal, between Säntis and the Churfirstenkette in the east Switzerland. It is a traditional Toggenburgerhaus, is expanded completely with Holztäfer, stands to one side of the street and yet headquarters. A "warm" atmosphere, personal guests care through the owner family as well as an achievement good price ratio price our families business".
Yup, you now know as much as we do! But we can tell you it's half board which means breakfast and dinner are provided by the Pension. So at least you will get two decent meals a day to soak up the beer and are only reliant on the mismanagement for feeding time lunches. Camping is possible (no price reduction).
Where will I be getting lost on trail?
Wow, what do I get?
Half board, sharing burrows/sties/nests/dens, proper bedding material, unlimited amount of fermented or non-fermented liquids, salty snacks, safari on foot across the Swiss wilderness and a souvenir bag.
Hey, I'm coming... but how much is it?
| | |
| --- | --- |
| Payment received by 30 April 2007 | CHF 222 / EUR 140 / USD 180 |
| Payment received between 1 May 2007 and 31 May 2007 | CHF 252 / EUR 160 / USD 210 |
| Payment received after 1 June 2007 | CHF 262 / EUR 165 / USD 220 |
Can I come for just one day?
Of course. We'll figure out how much on the day...
Is there a registration form?
But of course! Register yourself from the comfort of your web browser, but be quick: we have space for only 100 half-minds.
https://www.harrier.eu.org/snh2007/rego.php
I mislaid the payment info. Can you remind me?
I'm totally confused. Can I speak to someone?
If you have any questions or are having problems, please contact any of the mis-management:
| | |
| --- | --- |
| Roswitha Wet and Ready Krähenbühl | |
| Eugen Chico Bärlocher | |
Or mail the .